The new NASPA Zyzzyva Mobile app is an updated version of Michael Thelen's pre–iOS 7 Zyzzyva app for today's iOS and Android handheld devices, both smartphones and tablets. A lot of kind people crowdfunded that app and were disappointed when it went "out of print" in 2014, so NASPA is pleased to be able to bring it back and thank them for their support.
While the user interface is almost the same as the old iOS app's, under the hood it's completely new code, fitted onto a common NASPA Zyzzyva multi-platform code-base. This means that the mobile app and desktop app will be updated in sync from now on, and later desktop releases will benefit from improvements introduced in this mobile release.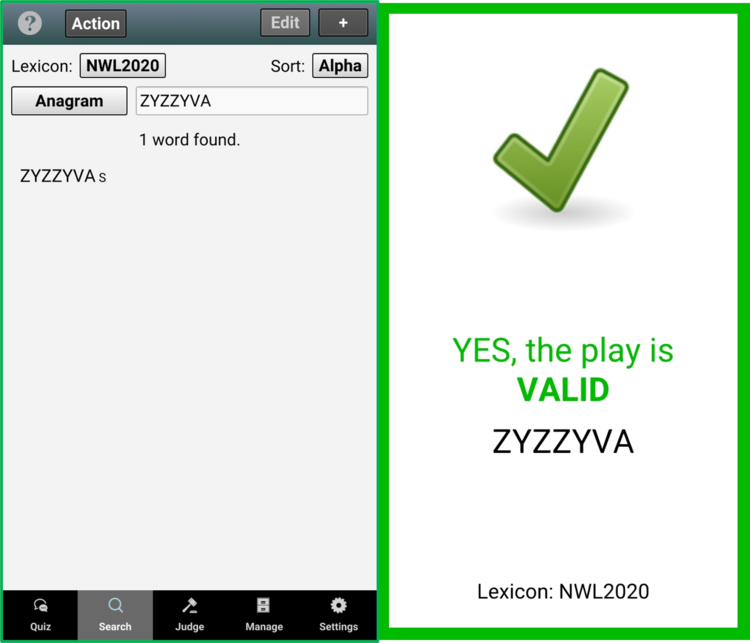 What You'll Need
NASPA Zyzzyva Mobile (NZM) is a scaled-down version of the familiar NASPA Zyzzyva (NZ) desktop application, and it's optimized for small screens so that you can study on the go. (It also works on larger tablet devices, though the print can seem a bit small!)
iOS. You'll need an iPhone or iPad device running iOS 11.0 or later (12.0 or later for version 3.3.1 and later). If your device was released in 2013 or later, it should be able to run that OS; that includes the iPhone 5S or later, iPad (2017) or later, iPad Mini 2 or later, and all iPad Air and iPad Pro models, along with the last (sixth-generation) iPod Touch. These are all devices with a 64-bit A- or M-series processor.
Android. You'll need a phone or tablet running Android 5 ("Lollipop") or later with a 64-bit processor or a 32-bit ARMv7 or later processor. That includes almost any device that you'd still find usable.

The app itself occupies 100 MB or less of space, but, like the desktop version, it manages databases that can consume significant amounts of space, especially if you turn on the option to create lexicon databases or synchronize its data with another desktop or mobile installation that maintains lexicon databases. (For each word in a lexicon, allow 300 bytes, or 400 bytes if the lexicon source includes definitions.)
What It Can Do
NASPA Zyzzyva Mobile has three main functions, Quiz, Search, and Judge. There are lots of "word tools" for iOS and Android (some also licensed by NASPA) that can do one or more of those things with specific focus, and some of them include a timer, which NZM does not. Its primary audience is people who are committed to word study and are familiar with the NASPA Zyzzyva desktop application; the main advantage of NZM for you as a NZ user is that you can trust it to work just like NZ and share data with it through cloud data synchronization as you move back and forth between devices.
Quiz. Quiz yourself on anagrams in flashcard style, moving from question to question with one click. Quiz yourself on the ones you missed. Build a cardbox full of study words, automatically scheduled to appear based on your past ability to solve them. Synchronize your saved quizzes, quiz statistics, and cardbox data with your other mobile and desktop devices, so you can study words whenever you like and wherever you are.
Search. Quickly find all words that match an anagram or pattern, or find all words you can build from a set of letters. Compare search results between one lexicon and another.
Judge. Get an adjudication ("valid" or "not valid") for any combination of words according to a lexicon. The result is exactly what you'd see if you'd done it at a club or tournament using a NZ word-judge station.

NZM is especially well suited for cardbox study. For more information on the Leitner Cardbox System and how cardboxing can boost your gameplay abilities, please read our Cardboxing 101 article. (By the way, in case you were wondering, CARDBOX is not a valid word in any lexicon!)
Where to Get It
NASPA Zyzzyva Mobile is produced by NASPA for the benefit of its members and all who are interested in competitive game play. It is offered free of charge on Apple's App Store and the Google Play store. Click here for the download links.
For now, it's a near-exact replica of the pre-2014 app and looks more functional than whizzy, but the NASPA Zyzzyva Committee welcomes your suggestions for improvement, and we especially want to know what features of the NZ desktop application are worth adding to NZM's streamlined interface, given that the underlying engine is common between the two and those capabilities are "just hiding" beneath the surface.