Line 1:
Line 1:
−

[[Image:Nsc-2013-nsc.gif|right|150px|NSC 2013 logo]]

+

[[Image:Nsc-2013-.gif|right|150px|NSC 2013 logo]]

 
 
 

The '''2013 National SCRABBLE Championship''' will take place on July 19-24, 2013 at the Riviera Hotel and Casino in Las Vegas, NV. Further details will be posted here as they become available.  

 

The '''2013 National SCRABBLE Championship''' will take place on July 19-24, 2013 at the Riviera Hotel and Casino in Las Vegas, NV. Further details will be posted here as they become available.  
---
Revision as of 10:35, 18 December 2012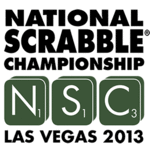 The 2013 National SCRABBLE Championship will take place on July 19-24, 2013 at the Riviera Hotel and Casino in Las Vegas, NV. Further details will be posted here as they become available.
Live Event Coverage
For continuously updated results from our event once it gets underway, please visit live coverage section, which will be posted closer to the start of the event.
Registration
Registration information will be announced soon.
Eligibility
To play in the NSC, you must (1) be a NASPA member, and (2) have played in an officially sanctioned SCRABBLE tournament to earn an official tournament rating. If you live in the United States or Canada, that rating should be a NASPA rating; if you live elsewhere it may be a WESPA rating or other comparable national rating.
Divisions and eligibility to play in each division will be announced soon.
Entry Fees
Entry fee information will be listed soon.
Conditions
Rules and Code
By registering for the NSC, you agree to abide by the NASPA Tournament Rules and Code of Conduct. In particular, some games at this tournament, probably the highest Division 1 board without a Gibsonized player, will be annotated live. If you refuse to play a designated game with annotation, you will forfeit it, and may at the director's discretion be assigned a spread penalty of −200 points.
Minor Release
A Minor Release and Consent Form will be required for all players under age 18 as of July 19, 2013, and will be posted here soon.
Player Bulletin
Please read our Player Bulletin, and check it again for last-minute updates before you travel to the event.
Changes
The Championship Committee reserves the right to modify the above to account for unforeseen special circumstances.
Hotel Information
Hotel Registration
Group rates beginning at $69 per night for Friday and Saturday night, and $49 per night for Sunday - Thursday, plus tax, are available. Reservation information and deadlines will be posted soon.
Hotel and Event Parking
The Riviera offers free self and valet parking.
Roommate/Ride Wanted?
If you need a roommate and would like a listing here, please contact the Championship Committee and specify your requirements: male, female or either, smoking or nonsmoking, etc. We will put a listing in this section. If you already have a room, please include in your email what nights your room is reserved. You can list your email address or phone number. Several people successfully found roommates for the NSC this way.
IMPORTANT: When you get your roommate or ride, please contact the committee so we can remove your listing.
Roommate Wanted
Ride Wanted
Check-In
Check-in information will be announced soon.
Schedule
The tournament schedule will be announced soon.
The Rose Award
Bob Schoenman's Protiles honors Rose Kreiswirth's memory. Rose was an expert Scrabble® player for over 30 years and cherished the game for its educational values. An accomplished player, Rose was as well known for her sense of fairness and her congeniality as she was for her competitiveness. The Rose Award will be awarded each year at the National SCRABBLE Championship to a female player who, in the opinion of the judges, best exemplifies the fierce competitiveness and compassion that we remember Rose for. Thank you, Bob and Andi Schoenman!
Other Donors
If you are interested in donating prizes to events at the championship, please email us at nsc@scrabbleplayers.org.
For information about sponsorship opportunities at the championship, please contact Chris Cree.
Prizes
This section will be updated when the initial event budget is prepared.
For full details on cash prizes, see the prize table.
Best Strategic Play Award
NASPA will again offer the Best Strategic Play Award at the 2013 National Scrabble Championship. Sponsored by Sam Kantimathi (who was a recipient of the award at the 1998 NSC in Chicago), the Award recognizes the best play in a position. The play must be an actual play made in the 2013 NSC, must be one among several reasonable options, and must not be an obvious play, but a move representing clever, thorough, creative and/or inspired reasoning. All divisions are eligible for the award – one winner will be named. Submission forms will be available at each division's resource table. Submissions may be turned in to your Division Leader or other tournament staff. The winner will be selected by a panel of experts nominated by the NASPA Championship Committee. The award will be made well after the conclusion of the NSC and announced in a future edition of the NASPA Bulletin. NASPA thanks Sam Kantimathi for sponsoring this award, and is grateful for Sam's expression of interest in sponsoring the award going forward on an annual basis.
Format
The NSC will be paired using tsh along the lines of past events. In each round, the top contenders are paired with each other, and everyone else is paired Swiss. These two groups, contenders and noncontenders, are paired with minimal repeats. For example, if there is no way to pair the contenders without at least one repeat, then they will be paired with one repeat.
The maximum number of contenders is 12 in Rounds 1-28, 8 in Round 29, 4 in Round 30 and 2 in Round 31. The contenders are further divided into a subgroup of leaders and non-leaders, if this can be done without increasing the number of required repeats while maintaining at least four players among the leaders. Leaders are paired by repeatedly having the top unpaired player play the lowest-ranked player that can catch up to them. Non-leaders are paired Swiss.
For further information about this pairing system, please refer to the section on Chew pairings in the tsh documentation.
Staff
To be announced.
Other Volunteers
A number of volunteers are needed to help with the tournament. Additional information will be posted soon.
Vendors
Vendor information will be posted soon.
Further Information
This page will be updated as the event draws nearer. If you have urgent questions about the event, please email us at nsc@scrabbleplayers.org.