Line 4:
Line 4:
 

Noah Kalus received the awards for Most Achievement Points and Highest NASPA Rating in the Middle School Division for the 2018-2019 season.  

 

Noah Kalus received the awards for Most Achievement Points and Highest NASPA Rating in the Middle School Division for the 2018-2019 season.  

 
 
−

[[File:Noah_Kalus.jpg|620px]]

+

[[File:.jpg|620px]]

 
 
 

==Achievement Points==

 

==Achievement Points==
---
Revision as of 16:36, 19 August 2019
To encourage youth SCRABBLE players, NASPA established the Youth Achievement Awards in 2017.
Noah Kalus received the awards for Most Achievement Points and Highest NASPA Rating in the Middle School Division for the 2018-2019 season.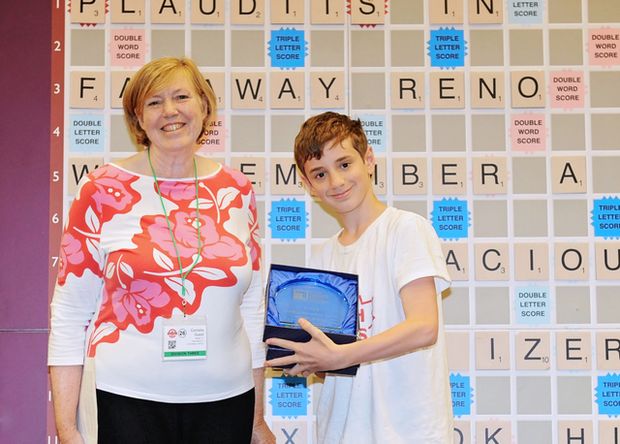 Achievement Points
Youth players are awarded achievement points for competing successfully in NASPA-rated, School SCRABBLE, and Youth SCRABBLE tournaments.
Players get 1 point for each tournament they finish, plus 1 point for each game they win. Both members of a team get full points in School SCRABBLE events.
In addition, bonus points are awarded to the top 4 finishers in each division of a tournament:
5 points for 1st
3 points for 2nd
2 points for 3rd
1 point for 4th
Award Categories
The award season runs from the beginning of a North American SCRABBLE Championship to the beginning of the next championship where the winners will be announced.
There are 3 grade categories of Youth Achievement Awards:
High School - Grades 9 through 12
Middle School - Grades 6 through 8
Elementary School - Grades 2 through 5
Players in each category will be recognized for the most achievement points earned.
Players finishing the year with the highest NASPA rating in each category will also be honored.
Current Season Leaderboard
The current season began on July 19, 2019 with the 2019 NASC Early Bird.
High School
Middle School
Elementary School
Past Seasons